I've seen a lot of questions recently about Ryzen chips because they can be much different than Intel chips, or even AMD chips of old. Here are some quick thoughts on Ryzen from someone who recently switched from Intel.
1.Ryzen X chips have a temperature reporting offset to keep a consistent fan policy. For gen 1 this was 20 degrees Celsius. For gen 2 this is 10 degrees Celsius. Threadripper is 27 degrees.
| Product Name | True Junction Temp (Tdie) | tCTL Offset for Fan Policy | Temp Reported by (tCTL) |
| --- | --- | --- | --- |
| Threadripper 1950X | 43°C | 27°C | 70°C |
| Threadripper 1920X | 43°C | 27°C | 70°C |
| Ryzen 7 2700X | 38°C | 10°C | 48°C |
| Ryzen 5 2600X | 38°C | 10°C | 48°C |
| Ryzen 7 1800X | 38°C | 20°C | 58°C |
| Ryzen 7 1700X | 38°C | 20°C | 58°C |
| Ryzen 7 1700 | 38°C | 0°C | 38°C |
Source: Guru3D.com
Many temperature monitoring programs aren't reporting correct temps. Some aren't even accurate with the offset subtracted.
I've found that HWInfo (Tdie) reports the correct temperatures, as well as AMD Ryzen Master utility.
2. Windows Balanced power plan (default) wreaks havoc on Ryzen chips and will cause huge voltage and temperature spikes constantly at idle. It'll cause constant fan ramp-ups and ramp-downs. Set your power plan to High Performance, or download the Ryzen Balanced power plan and chipset drivers from AMD at the link below. This will allow you to have excellent performance when needed, but still allow your chip to clock lower and save power when idle or doing mundane tasks like internet browsing.
3. Ryzen 7 chips don't particularly OC well and get better performance with Precision Boost and XFR2 instead of a set OC. Ryzen 5 is a different story, so we'll keep the scope of this to Ryzen 7. Now normally I am a huge proponent of OCing chips to get free performance gains, and I've OCed damn near every chip I've ever owned. I don't recommend it with Ryzen 7 though, especially gen 2. Here's why.
These are 8 core/16 thread chips here. You'll have a hard time getting an all-core OC above 4.2 GHz unless you get really lucky with your chip. AMD recommends not exceeding 1.45 volts for longterm use without doing damage over time to your CPU. I did a lot of testing and wasn't able to get to the boost frequency with less than 1.45 volts. It was also putting out a lot more heat and using a lot more power than stock, so much so that I wouldn't run it like this for long, even at 4.2.
By default, you're going to get over 4 GHz on all cores anyway, and XFR2 will boost even higher if you have extra cooling headroom. I'm often running all cores above 4.1 Ghz, but with the ability to ramp down and decrease voltage as needed. This allows one to not be forced to run constant high voltage with higher temps. Typically, if you can't get at least to your rated boost clock on your OC, it's not worth doing. The reason being you'll actually lose performance in a lot of tasks while increasing power and heat. Not a good equation.
Source: AMD
Most tasks and games are lightly threaded and aren't going to use all 8 cores. If you can boost to 4.3 GHz on say, 2 of your 8 cores that are in use, and have the idle cores running a bit lower, you're going to get better performance than running all of them at 4.1 or 4.2 and never getting the opportunity to hit 4.3. I validated this with several benchmarks. If you're able to hit 4.3 or higher on your chip with voltages below 1.45, go for it. Just make sure you have a great cooling solution and run a stress test for at least an hour to verify stability. Be aware that the new generation of Precision Boost 2 and XFR 2 work so damn well that it can be almost pointless for most people. I've included a few tidbits about AMD's SenseMI technology, as well as gen 2 improvements over gen 1.
Precision Boost
Fine-tuned processor performance adjusted in real time to meet the performance demands of your game or app.
Adjusts clockspeeds in 25MHz increments to optimize performance
Clockspeed changes can occur without pausing work
Precision Boost 2
Gracefully raises processor frequencies for snappier performance on any number of CPU cores.
The AMD Ryzen™ processor monitors its own energy consumption and temperature.
When the processor knows it's running cool and quiet, it can raise clock speeds in precise 25MHz steps for any application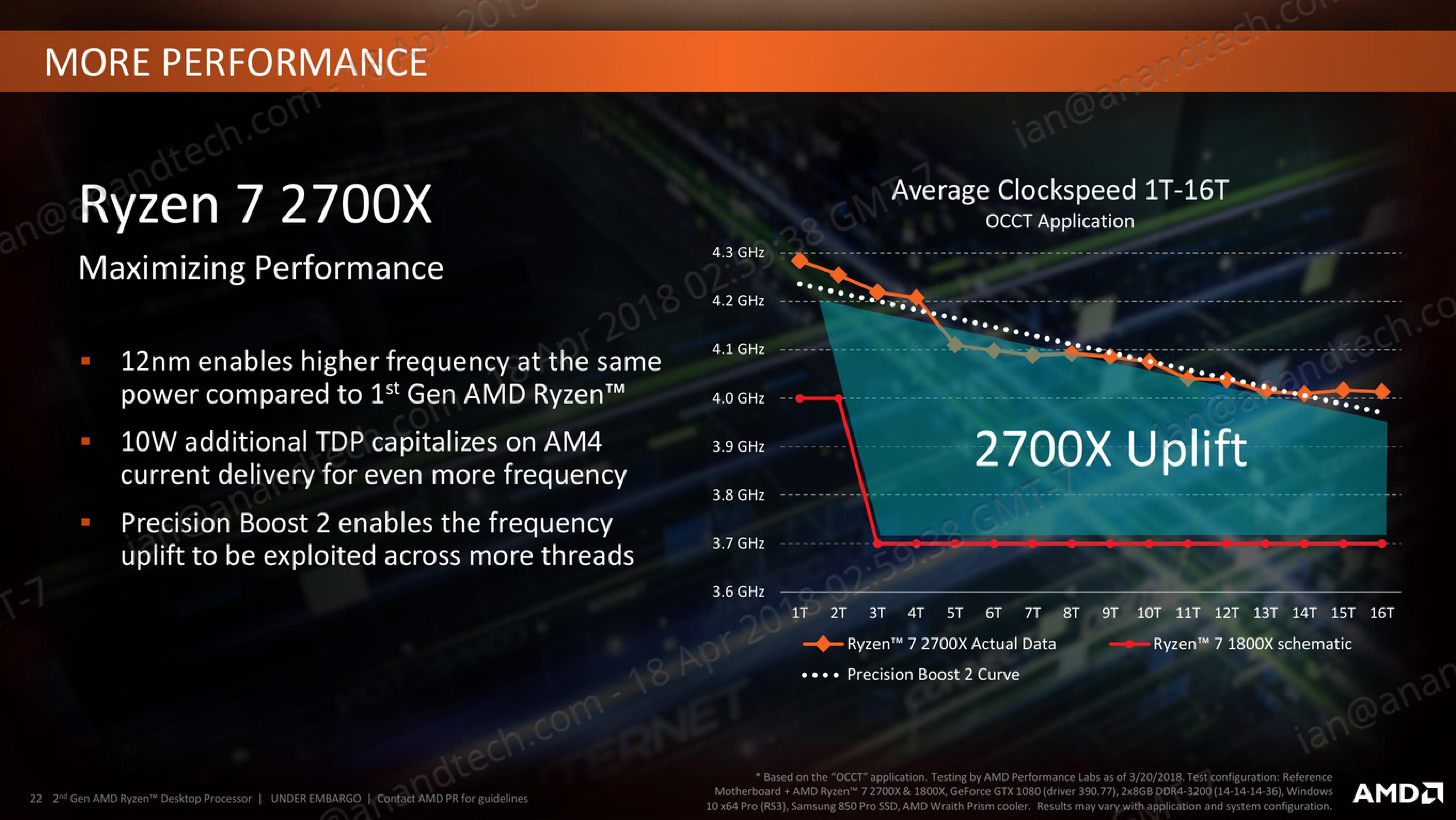 Source: AMD
Extended Frequency Range (XFR)
Automatic extra performance boost for enthusiasts' systems with premium processor cooling.2,3
Permits CPU speeds above and beyond ordinary Precision Boost limits
Clock speed scales with cooling performance
Fully automated; no user input required
Extended Frequency Range 2 (XFR 2)
Many enthusiasts choose premium cooling in their PCs, and 2nd Generation AMD Ryzen™ desktop processors can automatically reward that choice with XFR 2. For example: All 2nd Generation AMD Ryzen™ processors can take advantage of the lower temperatures offered by premium cooling to enable higher multicore performance.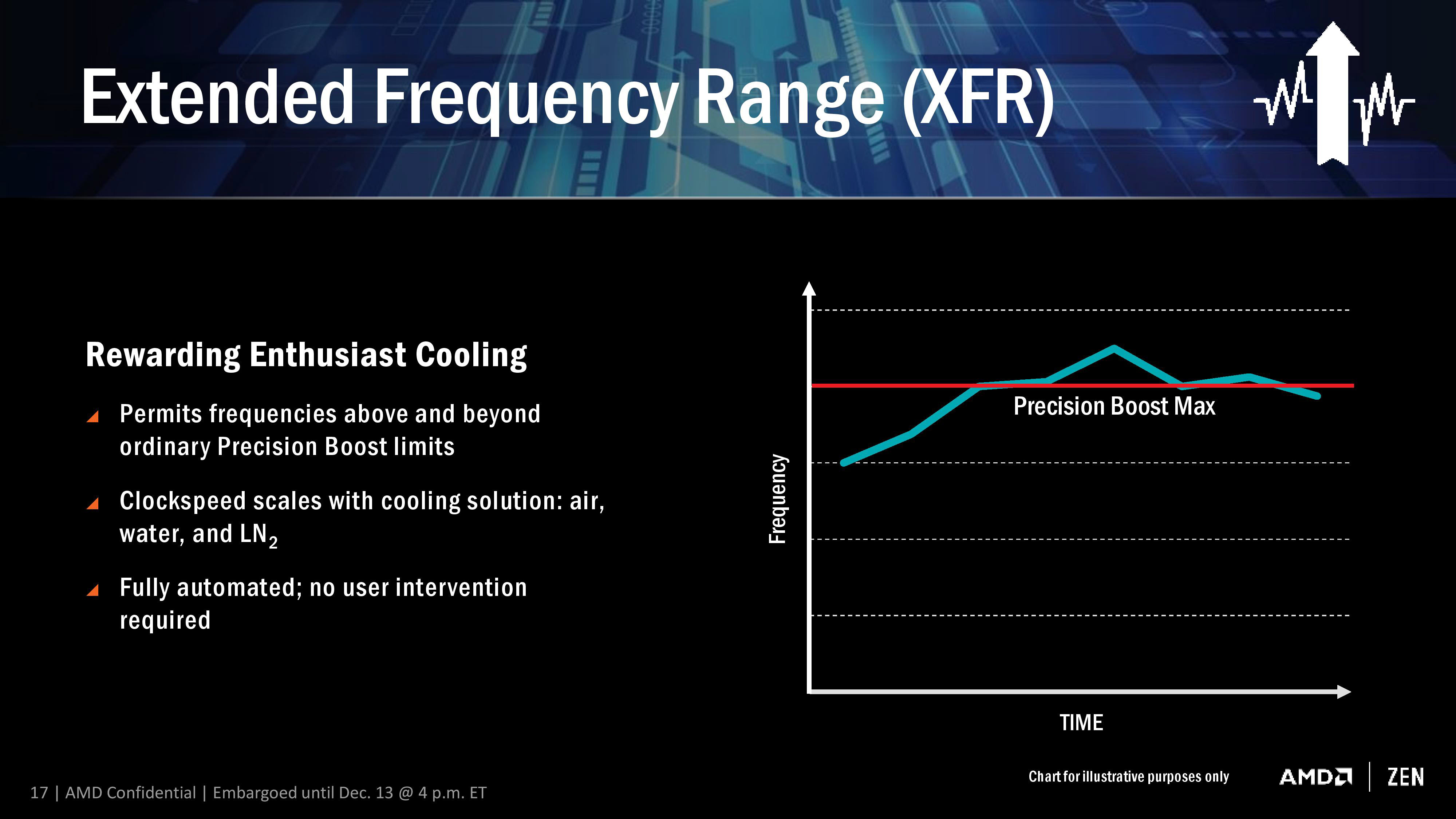 Source: AMD
If this article was helpful or interesting to you, let me know in the comments. You can also find me in the #pc-talk section of Ardent's Discord. Hit me up there. I love talking tech.
Get real time update about this post categories directly on your device, subscribe now.